Neath Motor Club – Xmas Trial 2018
UPDATE :
Classes – Sportsman, Clubman, Expert (Slightly easier than normal to account for over eating and drinking over the festive period
Sign on from 09:30AM, Trial Starts at 10:30
FREE ENTRY FOR BEST FANCY DRESS
NEW LAP AND SOME NEW SECTIONS! HO HO HO
Conducted Youth run by Bryan Puckett dependant on amount of Youth attendance.
After last years Neath MC Xmas (Fancy Dress) trial low turnout, we would like to find out what day this year people would like to us to run the trial. As its a trial over the festive period, its difficult to find staff to run the event so we would love to see as many riders there as possible.
Please use a voting button below to pick which date you would prefer us to run the trial on.
Poll Results :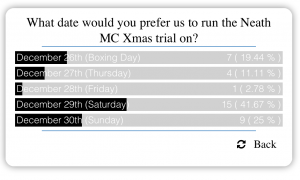 Trial will be run on the 29th December, Saturday. Details are in the calendar.
EVENT CALENDAR – XMAS TRIAL 2018